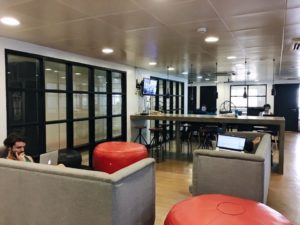 Running a business for startups in an office space which fulfills their needs is indeed a challenge for them, especially in the first few years. Running a business from home all the time is at times isolating for few business owners. What is right for you depends on the type of business you are running and the amount you can afford to spend for taking up an office space. Meticulous planning for Office Space Alternatives is a great way to get started off.
As a fairly new entrepreneur, one of the first few bridges you will come across is to decide the venue of your employees. If you are among those who have outgrown their home or would like to consider some other alternatives, here are some other great options for you to consider. You don't need to break your bank for hiring staff!
Co-working Spaces
These are a relatively new concept. In the business world, companies began to offer working space that would bring people together with no business relationship with each other and which allows them to work in a single open location. People who are entrepreneurs in their early stage miss the human element while working as they don't have any coworkers or a team to work with. By using a co-working space, they are able to add that human element in their workday.
Coworking usually appeals to telecommuters, remote workers and small businesses to work together. Nowadays, they are mushrooming in every metro city as they allow quite an affordable way of operating on reasonable membership fees. In some cases, it could also include access to other areas such as conference areas, office events and much more.
Business Incubators
In case you have already outgrown the co-working space, look out for information related to active business incubators in your surroundings. The main objective of business incubators is to offer flexible space to growing startups. Such programs offer usually offer discounted rentals with the agenda which stimulate business growth. There's no better method for getting your startup funded than being part of a successful incubator. Business incubators support the development of startup companies by providing them with various kind of services including administrative and advisory support services. Newer incubators work with companies from diverse industries.
Rent a Desk
Many times it happens that those businesses which downsize their employee strength leaves empty desks and other such kind of office furniture in professional work environments. These otherwise would have been unaffordable for you. Try reaching out to such people who are within your vicinity and work in a similar industry. This is also an incredible way to network with prominent people within your industry.
Share an Office
Till you are ready to have your own office, as another alternative to saving money you can successfully share offices with other people such as web designers and others who were in the same boat. Maintaining a schedule and communicating with each other while adjusting the working hours is the key to successfully doing that. You can utilize this awesome concept of shared office space in case you start viewing it as a community of people instead of looking at it as a service. Exchange of ideas and views definitely prove to be quite beneficial for you in the long run, ensure result oriented networking and can determine the extent of how successful your startup ultimately becomes.
Furnished Office
Business owners who prefer a private office instead but don't want to pay to furnish it opt for renting a furnished suite part time or full time as per their requirements. There are many companies which provide ready to go offices. Such companies make individual offices for rent and provide offices with phone services, mail receiving/forwarding, shared receptionist and other amenities. The number of facilities depend upon the type of package you sign for.
Work out of Home
Instead of searching for office spaces all around you, use your own sweet home as a home office. Arrange for a separate office area in one of your rooms while it is highly convenient. If you have recently started of your own, this set up is ideal for around 2-3 people in the early stage as an entrepreneur. With an added advantage of not having to pay rent and no need of long commutes to office, working out of home is also an ideal choice for early startups. This way you have more time to work on the business and enables you to do cost savings.