Ever since Apple launched its smart watch, its Apps have been considered as one of the major features. There is a huge selection available numbering more than 10,000 which is humongous compared to its rival platforms. Here's a look at some of the top Apple Watch Apps that have caught our eye now that we've had a chance to spend some time with the Apple Watch. These will help you get the most out of your new Apple Watch!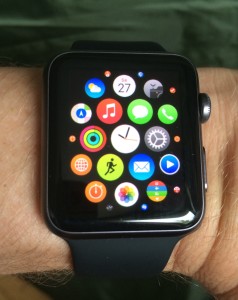 CityMapper
This transit App helps making complex cities easy to use while using public transport.  Would you like to know the fastest route to your destination? This App works great if you are trying to do that. It will provide you the fastest route to reach your destination.
This App provides detailed instructions for guiding you how to catch the nearest bus or train based on your present location. As of today the App is active in about two dozen cities and about six languages. You can be assured of never getting stuck on your way to your destination, as the App provides live notifications. What more can you ask for?
Evernote
This Apple Watch App allows you to dictate notes anywhere and anytime and also lets you record voice notes which are further translated into text. In case you are heading towards a meeting, you can happily see the last meeting's agenda and your contact notes for the people attending the meeting. In case you landed in an absolutely new location for a business trip, your note list will be able to display your itinerary as well. Another good part is that the top five notes surface to the top based on how useful they are for you, on your meetings in the calendar and past activities.
Lose It
Could you imagine counting calories for everything you ate? Well, it is so time consuming and tedious that it seems impossible to do that. Not any more, if you have the Apple "Lose It" App. This App comes in handy to account for the calories you take in which is so vital to keep a track of your calorie intake. It gives you a quick look at indicating where you stand with your health goals. It becomes so easy for you to assess your health related goals when you can quickly log calories for what you ate for breakfast, lunch and dinner and in this way view your weekly progress.
In case you are on a weight loss spree, desperately trying to lose that stubborn weight, what more can you ask for if you get a reminder on your watch in case you are over for the day. That does the trick…will make you think twice before you go for those mouthwatering foods that lie right across you waiting to be devoured, especially during the Holidays and special occasions!
The Weather Channel
This useful App brings real time alerts for rain, snow and lightning to your Apple Watch. Do you wish to quickly see weather at a glance on your watch? This App does exactly that for you. In fact, you have the ability to set up notifications based on your individual preferences to get info about any expected severe weather heading your way. That's not all..Apple also offers a Live Radar feature which is based on your current GPS position. In this way by combining accurate forecasts and weather data, it becomes so useful if you have already the information required before you get outside and stay safe, while making the most of the weather.
Shazam
Want to identify which song is playing? This terrific App just that for you and it's called Shazam. It is one of the popular and Top Apple Watch Apps. This magical is one of the popular entertainment apps which Apple Watch offers. You can follow your song along with the lyrics and turn on Auto Shazam which will continue finding tunes for you. It also lets you see your past Shazams at a quick glance by simply swiping up the screen and continuing with enjoying the magic of lyrics and music recognition. This App lets you have a list of those you have tagged, share them via social media and can buy songs on itunes. So come on guys, just wave your arm around to reveal a song's title, and also lyrics to your friends!
iTranslate
This one is undoubtedly one of the most useful Apps the Apple Watch offers. It has the ability to translate phrases and words in more than 90 languages and users can benefit greatly from it. In fact, this App can play translated phrases back using the gadget's built in speaker. It is so smart that it can detect your location in order to figure out the language it is supposed to translate. Users can launch this app directly from the face of this watch and a larger complication displays useful phrases. In fact, in the new updated version, you can speak directly into your Apple Watch and immediately have translated text read back to you.
Instagram
Instagram is one of the most popular visual sites on social media allowing you to share photos with your friends and family. As an App, it's a perfect fit on the Apple watch. The App is visually appealing and handy too. The App is broken down into two sections – Feed and Activity. It gives access to feeds which shows the latest pics posted by people who follow you.
Hearts are awarded if you like a photo and even post a reply. You can like images, see more details on each image and view profiles. You are also able to like images and view profiles of your Friends. This App available on your favourite Apple Watch is worth giving it a shot and browsing photos will become something more enjoyable than before for you.
We hope you will enjoy your new Apple Watch and make the best use of the available Apps as every second spent on this new gadget is worth your time. Their number is growing by the day and has already reached 10000. Get the most of these Apps and many more so that you are proud of your new possession.