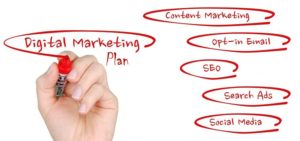 Does your company need a digital marketing plan…is that a question which has popped up in your mind several times lately? If you are thinking on those lines, you are on the right track for attaining your organization's marketing goals and creating your brand's identity. Here are the ways by which you can learn how to create digital marketing plan.
Know your Audience Thoroughly
As an initial step, first and foremost you need to know in details about the target audience you are trying to reach. You need to find their demographics and interests, opinions etc. and the best places where you can reach them digitally. Once you have zeroed in on all the above, you now need to know about their personas.
Segmenting the audience on the basis of behavior and demographics is quite significant. You would want to target the people who constitute a large chunk and at the same time they have fewer competitors. Targeting the right people will enable you to customize your tactics so that they bring best possible results for your marketing goals.
Figure out the best Marketing Channel 
In case you are a starter in the business world and have lately ventured into digital marketing, it is advisable to start off with a specific online marketing channel rather than a handful all at the same time. As a starter, it is important to have things simplified.
However in the long run, it is undoubtedly imperative that you start working on more marketing channels as soon as you start seeing positive results for your company as a result of your online marketing efforts. Avoid putting all your eggs in one basket, as the failure of a single marketing channel can result in shutting down your shutters on your online presence.
You can even classify the marketing platforms on the basis of being paid or organic. The decision of picking your marketing channels will largely depend upon your available resources at that point of time and places where your strength lies due to which combining channels also can be a long term solution. An assorted and well planned assorted mix of online marketing channels and tools is the best approach.
Identifying all the required Digital Marketing Tools 
Taking a stock of all your existing or current digital marketing strategies is essential. If the company is a startup, it might not be quite complicated. However, if you are an established business, then you need to put together a detailed plan of identifying the social media channels, marketing campaigns etc.
You also need to identify all your marketing goals and ultimately the prominent goals of your business which you plan to achieve. The ability to use the right digital marketing tools for your brand and at the same time able to measure your goals is quite significant. The way you need to measure the effectiveness of the strategy will vary for every business and is based on the type of goals you have set up for yourself. After all, it is these metrics which ultimately helps you in adjusting your strategy for the future.
Also give a deep thought about all your social media accounts and in ways will you be able to engage with your audience. Create interesting and creative posts and do always respond to the questions posed by your audience. You can decide whether paid ads and promotional posts will be beneficial for your business.
Creating a Content Plan
In order to define your content creation strategy, you will have to first of all decide the method of how to go about generating and structuring the content. The content can be ultimately created in three different ways: creation of the content by the in-house team, creating in collaboration or ultimately the curation of existing content. In order to store the content, there should be a centralized place for storing as well as organizing content so that it is accessible to the audience anytime and anywhere.
An editorial calendar will help in ensuring your brand's presence consistently throughput the year with the marketing calendar. You will also have to figure out where the content will be posted and the way it will be promoted. In fact, one of the ways for promoting content is through email marketing. This can include sending a newsletter and linking to blog posts or in fact sending info about special offers and sales. These promotional emails should always contain interesting content and sent timely and regularly.
Auditing & Planning your Earned/Planned Media
Evaluate your earned media with the current goals so that you can get ideas of where to focus your time on. Earned media basically refers to all that which was achieved through the use of word-of-mouth. You will have to observe and study where all your main traffic and leads are coming from and start ranking them in terms of their effectiveness. Next, start auditing and planning your paid media. Therefore, this time now you are required to evaluate the existing paid media across all channels so that you are able to figure out what all is going to help reaching your current goals.
Bringing Together Everything
After having gone through all the required steps, you now need to form a digital marketing strategy document. This will include everything which you require for helping you achieve all the goals. The same applies for attaining objectives in order to make the digital marketing plan a grand success. Creating a methodical plan which spans from 6 months to even one year as a long term strategy document will help in guiding you all this time.
The purpose of the digital marketing strategy document is to describe all the actions which you are going to take for fulfilling your goals over a specific period of time. A digital strategy document will outline all the actions that are required for achieving a desired goal. Some of the effective yet simple digital marketing strategies you can use for growing your business includes setting proper goals, creating marketing funnels, call to actions, creating effective lead magnets and last but not the least, driving traffic to your website.